Oxyrase® for Broth
Oxyrase® for Broth (OB)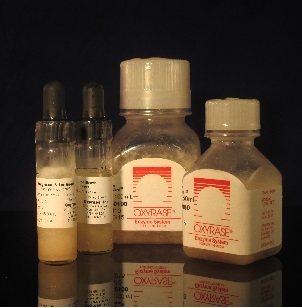 is a sterile enzyme formulation that utilizes the Oxyrase® Enzyme System to produce anaerobic conditions in a wide variety of bacteriological broth media. Oxyrase® for Broth makes growing anaerobes easy, especially if you're reviving lyophiles. Just add Oxyrase® for Broth to your broth medium. Oxyrase® for Broth is supplied ready to use making broth anaerobic in 10-15 minutes and continues to remove oxygen from the container headspace overtime. Never boil broth tubes again!
Oxyrase® for Broth is a medium supplement that contains the Oxyrase® Enzyme System and a blend of substrates to maximize the Oxyrase® activity in virtually any broth medium. The list of microorganisms known to grow in media supplemented with Oxyrase® For Broth is always growing and can be found here.
Oxyrase® for Broth is available in different configurations including a convenient dropper bottle. We recommend you start by adding one drop per mL of broth medium per tube. That's all there is to it!
Product Insert
Oxyrase® for Broth 10ML (OB-0010)
Download
Oxyrase® for Broth 50ML (OB-0050)
Download
Oxyrase® for Broth 100ML (OB-0100)
Download