OxyFluor™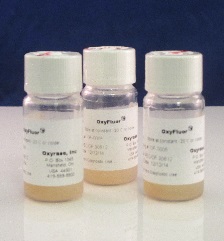 OxyFluor™ was formulated to meet the needs of the microscopist using fluorescent dyes.
Intense light, used to stimulate fluorescence in some dyes also produces oxygen free radicals. These oxygen free radicals quench fluorescence (photo bleaching) reducing intensity and duration of fluorescence, under some circumstances. Photo bleaching can significantly impact the quality of observation as well as the time of observation. Furthermore, oxygen free radicals interact with the biological materials under study and cause change. These changes may interfere with the biological function being studied.
The Oxyrase® Enzyme System in OxyFluor™ removes dissolved oxygen effectively and efficiently. This significantly reduces or eliminates the formation of oxygen free radicals under conditions employed for fluorescent microscopy and results in brighter cell images. OxyFluor™ provides a protective effect for the biological material being studied and is an excellent solution for live cell imaging and cell culture applications.
There are no reports of Oxyrase® having an adverse effect on biological systems. Oxyrase® does not produce toxic compounds in the course of reducing oxygen to water.
Generally, OxyFluor™ is used at a 1:100 dilution. Lactate is a convenient substrate at 10 mM to 20 mM concentration.
| | |
| --- | --- |
| OxyFluor™ Introductory Video | OxyFluor™ Practical Video |

OxyFluor™ videos courtesy of Dr. Leila Nahidiazar from The Hubrecht Institute and The Netherlands Cancer Institute.
Highlighted Publications utilizing OxyFluor™
eLife, December 2016: Labeling proteins inside living cells using external fluorophores for microscopy. Kai Wen Teng, Yuji Ishitsuka, Pin Ren, Yeoan Youn, Xiang Deng, Pinghua Ge, Sang Hak Lee, Andrew S Belmont, Paul R Selvin.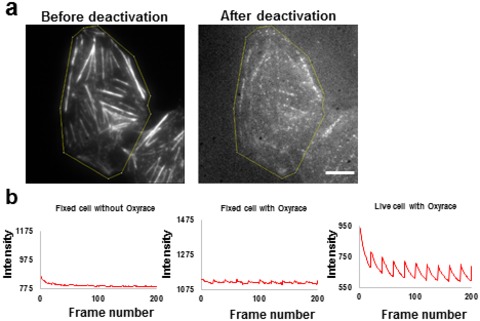 Science Lab, October 2016: Practical Guide for Excellent GSDIM Super-Resolution Images. Kees Jalink, Tamara Straube, Leila Nahidiazar, Daniela Leyton Puig, The Netherlands Cancer Institute (NKI), Division of Cell Biology, Amsterdam & The Netherlands Leica Microsystems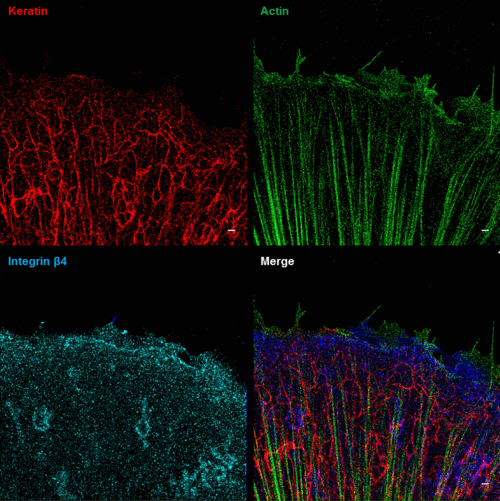 Product Insert
OxyFluor™ (OF-0005)
Download